and a little of that going on on the knitting front. I have worked the bottom of my baby argyle and part of one of the sleeves. The argyle is a bit bunched up, but it does add some shape to the cardigan. I have yet to decide if I want to reknit it. What would y'all do if you were me?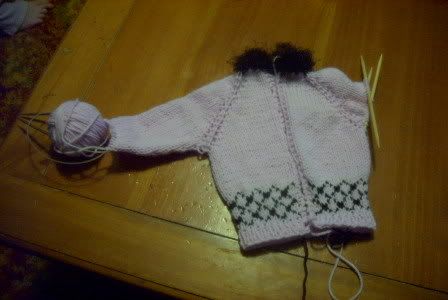 I am really happy with the inside as well, everything is so neat and flat. (ok, the photo upload gods are pissed at me so I cannot show you the pretty, flat floats across the inside*sigh*)
I also started a crochet elephant from a pattern found on Roxycraft. I have the body, head and both of the ears finished already, and I think he is going to be so cute! I think I am going to give up on the doublesided baby blanket for now, at least in the yarn I am using. I really like it but I really think it is going to wind up being too thick and hot. I will try again though with a lighter weight yarn, because I am in love with the technique!
On another note, I have a stalker! (I bet you would really like one of those "100 things about me lists" right about now, wouldn't you?!) Oh my! I finally joined a swap on craftster, and I have major craft jitters! I have a great person to stalk and I have lots of ideas! ssshhhhh! I just hope the special someone likes everything I make. So most of my crafty creativity will be directed towards my special craft partner instead of knitting for myself. I will not go into it all now (you never know who is looking) but promise to post pics after my package is sent at the end of the month!
Ok, stalker, since you have been so patient...100 things about me (1-10)
1. I am a down-to-earth, blue jean and t-shirt wearing southern girl.
2. I see no reason to ever be mean to anyone, ever. Karma is a big enough bitch without my help.
3. I try to see the silver lining of the cloud, no matter how dark the cloud.
4. I tell my friends what they need to hear, which is not always what they want to hear.
5. I read my horoscope everyday.
6. I am a taurus.
7. My favorite color is yellow, but I only have 2 yellow pieces of clothing-1 is a dress, the other is a skirt.
8. I like to drink alcoholic beverages, but not girly drinks.
9. I drink coffee with sugar and cream every morning.
10. I have 13 different types of hot tea in my cabinet.