I have realized that while The Gaming One is on vacation this week I have lots more time to knit...could that possibly be because I have to share the computer and cannot spend countless hours being inspired by the creative force that is Craftster. And his computer time is seriously cutting into my quality reading time (blogs are quality reading, don't you think?) I guess I should thank him for it, because just another 2 or 3 inches and the first leg of my modified version of Lolita will be finished...Go Team Sandbagger! I am really convinced I would be finished if it were not for all the *ahem* frogging practice I have had on this project. I am just thanking my lucky stars I had the foresight to pick up a pair of size 1 dpn's (jaywalker, I'm coming for ya next!) when I got my size 4's because seriously ya'll, they have spared me so much cursing you would not believe! anyway...here is my day 4 progress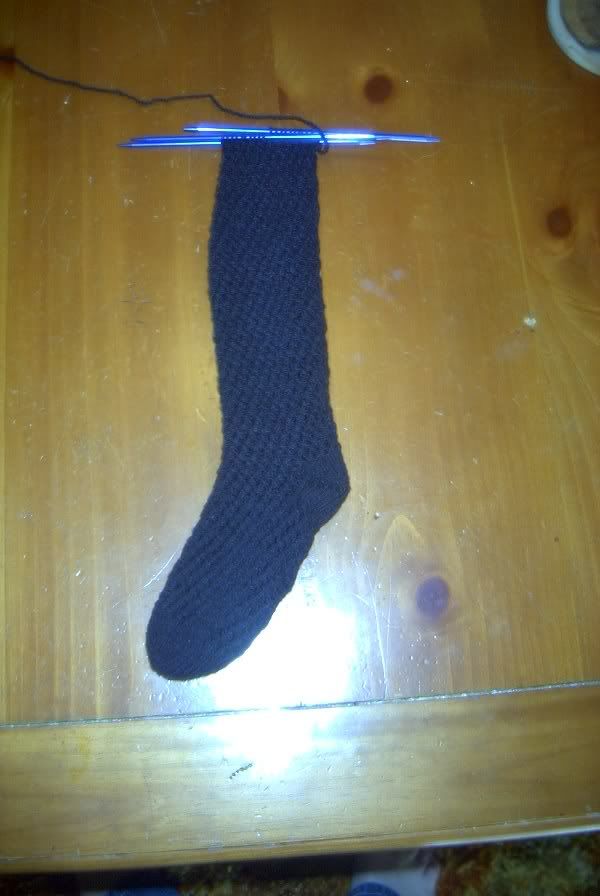 and here is day 5 progress....
which would have been much more had I not had to frog two whole inches at 12:30 am after I realized I added a stitch...when I realized it my conversation with The Gaming One was something like this....
me:fuck!
him:what happened?
me:I somehow added a stitch about two inches ago and now I have to pull out all I knit today. dammit!
him: well, don't you count your stitches after each row?
me:(icy stare in his direction)you would think so wouldn't you?!
argggggg oh well...after this I am going to be crowned Queen of Picking Up Stitches in Stretchy Black Yarn, but I think I may also be half blind by that time and have to knit with one of those magnifying glass contraptions that little old ladies that really are half blind use to cross stitch with. Ya'll it really is that hard on the eyes.
In completely unrelated knitting news...I got my first copy of Vogue Knitting today (my sister bought me a subscription for christmas) and besides the fact that it looks like someone had been chewing on it and the cover was creased all to hell, and yes it was still in the plastic, I was pretty excited to see it. I really liked a few of the patterns especially the yoke pullover and the trapper hat. There was also a shaped jacket I looooved, but if I knit it in the suggested yarns (17 balls Lang/Berroco Cashmere-Luxe and 12 balls Berroco lazer FX) I would be spending almost as much as my mortgage payment on yarn, for one project. Ok maybe not a mortgage payment but pretty damn close! I showed jacket to The Gaming One and he naively said...why don't you go ahead and order the yarn for it? It's really pretty! I just smiled and told him how expensive the yarn was...needless to say I am not going to be making it in the suggested yarn...well, off to get a blog fix before The Gaming One comes in from his yard work!