Well, With the KO project complete, I thought it was high time I started something else, (UFO's what UFO's- I am pretending you do not exist) so I decided to knit a little baby argyle sweater for a 2nd cousin (born in December) Since I loved the Minisweater so much I decided on a top down raglan. I also want to try argyle (since baby's parents are such the argyle wearing type) I thought pink and black would be super cute and what is arglye without a little faux fur fun... here is my progress so far, and I am pretty happy since I am not using a pattern for this one! yay me!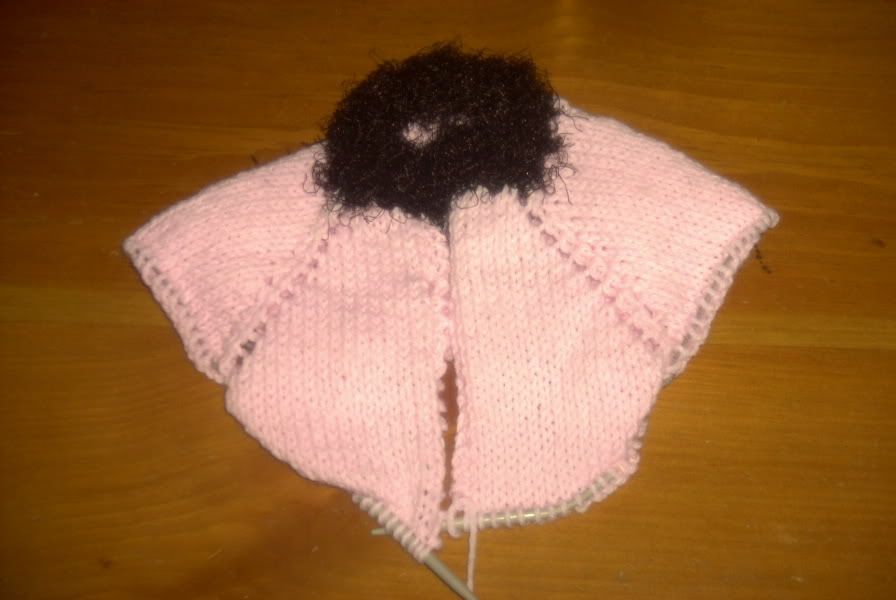 I am planning to put the diamonds along the bottom, put fur on the cuffs and little black buttons down the front. Playing with the idea of a few decreases along the top of the sleeve to make little puffy shoulders. So far I am tickled pink y'all. (Y'all know I just realized that I have been spelling Y'all wrong all this time?! What kind of self respecting southern gal cain't spell y'all? - I am by no means the best speller in the world, but I hate to see things misspelled- even in chat it drives me crazy- I am sure my Momma is hanging her head in shame. Well, I have learned the error of my ways and vow to never spell y'all wrong again!)
Anyway, since I am a really nosy sort of gal, and really want to see where everyone is knitting I am sharing my cozy kniting place. If ya'll are reading this consider yourself tagged! I want to see your spots, too!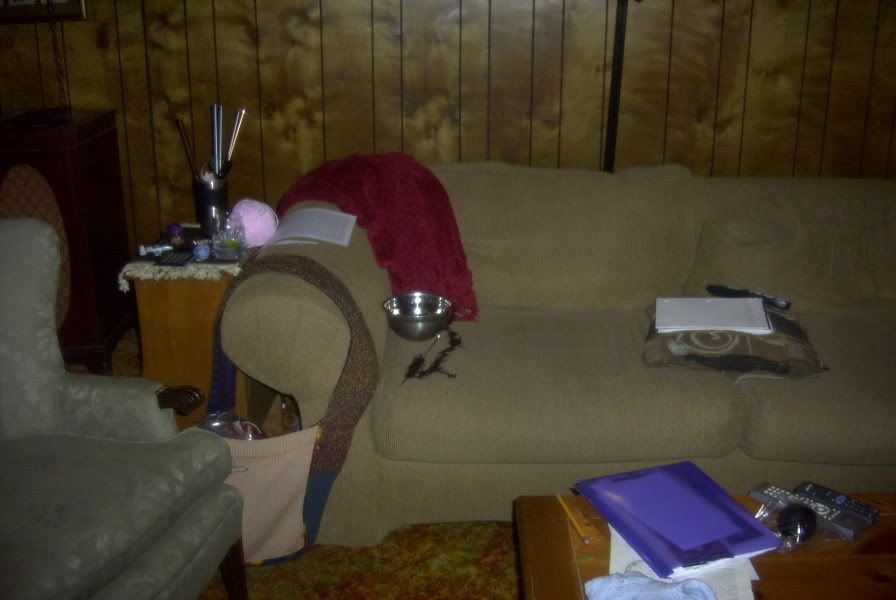 I think you can even see my assprint on the sofa! and just cause I know y'all are all dying to know what all that shit is....Purple folder and notebook hold all my patterns and ideas. Remote controls right where I can reach 'em. Red snuggly blanket (Thanks you MIL) to keep me nice and cozy. I put my yarn balls in the silver bowl to keep them clean and in one place while I am knitting. The beginnings of little sweater are on the needles. A few of my needles and a crochet hook to pick up stitches are in the cup for easy access, and the ever-present-while-knitting-at-night libation (tonight's selection is brought to you by Stoli and tonic with a slice of lime) is in front of the pink yarn. I actually knit that bag (from leftover yarn in my stash) hanging off the arm of the sofa to keep all my knitting things in one spot. And I know y'all all want my vintage 70's shag multicolored carpet....believe me it hides everything!
Well, ladies and gents, I must clean up today or The Gaming One is going to fire me, so I must back away from the computer and resist the temptation to sit and knit (have I mentioned I am childless today? and I have to spend it cleaning?! There is NO justice in this world!) Off to fold Mt. Washmore!